About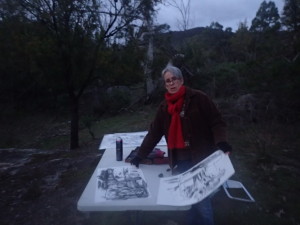 I've been painting and drawing for over 30 years. I live with my husband on 10 acres near Gisborne, 56 kms north west of Melbourne.
An energetic response to the landscape was the impetus for my first turning to art – it hasn't diminished. After completing an honours degree in Critical Theory, I enrolled in Fine Art at the Phillip Institute, now RMIT. In my thirties, I gained a post graduate diploma in Visual Art from Ballarat University. I have worked as a teacher and raised two daughters. 
Setting up, sitting down and working in the landscape has been my constant practice over the years. It's the only way to engender authenticity in art that depicts the land. However, I don't use small works done outside as the basis for larger work in the studio. I work from memory inside and love to allow the quality of paint and the processes of painting itself to overtake imagery. Colour, gesture and texture, as they relate to the landscape, become the tools I use to build a painting in the studio.